The award-winning political news site Political Cortadito is reporting that Miami Beach Commissioner Kristen Rosen Gonzalez "may file for the seat in District 27 [Florida Congressional seat] as early as next week."
The blog post has a quick summary of the 2016 election…but lets fill in some holes and speculate a little more with the benefit of OUR EXCLUSIVE DCCC DOCS from Guccifer 2.0!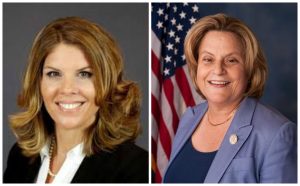 "Rosen Gonzalez has already met with members of the Democratic Congressional Campaign Committee," according to PC, and she speculates they have "probably talked to a couple of different people." But in 2015, their top target was limited to convincing people who wanted to run against Congressman Curbelo.
The EXCLUSIVE DCCC DOCUMENTS we obtained last year from Guccifer 2.0 outline their likely argument to Rosen-Gonzalez:
"Please let <CANDIDATE> know that while Ileana Ros-Lehtinen is a strong incumbent, the numbers in her district demonstrate a clear opportunity to elect a Democrat. President Obama received more than 51% of the vote in 2008 and more than 53% in 2012. This is a unique trend throughout the country. There are very few Republican held districts where Obama did better in 2012 than in 2008. This speaks to the very real trend toward Democrats in South Florida and serious vulnerabilities in Ros-Lehtinen's reelection prospects."   [UPDATE – A reader pointed out after publication that this Daily-Kos analysis shows her seat "shifted even further to the left: Clinton won 59-39."  This stat likely weighs large on their recruitment efforts as the DCCC tends to focus heavily on fundraising ability and generic ballot polling when selecting targeted districts, according to the Guccifer 2.0 docs.]
Commissioner Rosen Gonzalez already sounded like a candidate when she told the blogger that "The district …has been redrawn for a Democrat and it needs a new fresh voice."
The Candidate-Commissioner is probably referencing a FL-27 write up on polling, similar to this one from one year ago that suggests that "on the generic congressional ballot, Democrats lead Republicans by 7 points (41% to 34%, with 25% undecided). Democrats lead by 4 points among Latino voters (41% to 37%, with 22% undecided) and by 16 points among registered Independents (40% to 24%, with 36% undecided)."
So does Rosen Gonzalez have a chance? Probably not….
While the Political Cortadito notes that Ros-Lehtinen beat Scott Fuhrman in a brutal campaign that reminded voters of his drunken driving past, Fuhrman still got 45% of the vote!  Still all that means is that the brutal campaigning did absolutely nothing!
In late March of last year,  right after Super Tuesday, a generic Democratic candidate trailed Republican Ileana Ros-Lehtinen by 10 points (35% to 45% with 20% undecided) in a DCCC poll of FL-27.  On election day, the 20% undecided split 50/50 between IRL and Fuhrman, with 10% going to each. 
Another stat the DCCC probably didn't share with Commissioner Rosen Gonzalez: "Ros-Lehtinen earns the support of 23% of registered Democrats."
So will she run with all these factors against her?  Who knows, but we do know the DCCC docs from Guccifer 2.0 are the gift that keeps on giving!
Want to see all the EXCLUSIVE FL-27 DCCC files?  They can be downloaded here:
Recruitment Meeting Talking Points: